It has been almost 4 months from the last day at APFT. I still can remember fresh in my mind the 1st day I enrolled myself at APFT. My
commencement date
was on 06/04/2009. I drove with my family to Kelantan and spent overnight at my hometown, Pengkalan Kubor.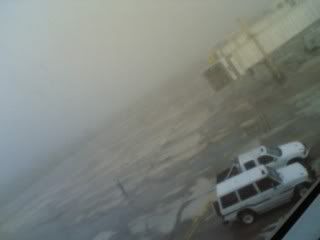 The visibility in the morning was very poor, I thought it was normal and happens everyday here but I was wrong. I safely arrived at Sultan Ismail Petra airport, Kota Bharu 15mins early. It was quite cold at that time. My family and I went inside the airport and look for the APFT registrar, MR Sabri and reported to him. While waiting for the others to come, I wondering around the airport and look for breakfast.
To shorten the story, we went to Crew by APFT bus and proceed with registration. We were brought to airport Fire Department and Kota Bharu Tower on the next day. We started our first class on the 3rd day and sat our first exam which was PPL(Private Pilot License) on 26.04.2009.
After passing the first exam, we then struggle for our next paper which was DCAT. We sat 7papers for
DCAT(DCA-Technical Exam)
on 9-10.06.2009. We were given one week leave after this exam. I started my first ever flying on 12.07.2009 with Capt Myo . Capt Myo was an ex Myanmar airforce and he is one of the finest instructor in APFT. Lucky for me, I did my familiarization with him. Really a patient instructor. My experience for the first flight was not that good.Haha..I feel dizzy as we took off in the afternoon with bumpiness. He said, it was normal for the first timer like me.
Hehe.
I flew with different instructors during my PPL stage.
I went for the
first Solo
on 06.06.2010 after being cleared by Capt Myo using callsign APAC 17Sierra and continued my flying journey until my first flying exam;
PPL Test
. I did my PPL test with Capt Zeenu (APAC08T). Capt Zeenu one of the Authorised DCA Examiner (AE) in APFT. He also known as "the perfectionist" during flying. He can test different types of aircraft mainly Diamond 40 and Eagle 150B. I was initially quite worried to sit for the test with him. I still can remember fresh till now, previous day, one of my batchmate went for the test with Capt Zee, and he forgot to warm up the engine after 2mins (as per checklist) and got scold by Capt Zee. He advised me to do so and I did it. However, I screw up in some other part.
Me: Kota Bharu Ground, APAC 08 Tango, Good Morning
Ground: Morning, Go ahead.
Me: APAC 08Tango request startup initially for circuit and landing thereafter to Bachok training area, POB 2,
endurance 6HRS
in Niner Mike November Romeo Echo Copied info Charlie.
(Capt zeenu stared at me after I transmitted the above radio call)
Ground: Startup Approved
Me: (readback)
Capt Zeenu: What is the endurance you said just now?
Me: Errr..Six Hours sir?
Capt Zeenu: (showing the total galloons in MFD)..What is the value written here?


Me: 28Gallons Sir
Capt Zeenu: How many galloons per hour?
Me: about 5galloons sir
Capt Zeenu: If 5galloons per hours, how come u get 6hours endurance with 28 galloons?
Me: . . . . . . . . (

I cant think

) HAHAHA

Till now, after more than a year, I can still remember every single minutes and seconds during that flight.

Back to ground school, Combo used as a term in APFT which mean flying-ground-flying-ground.Alternate days. Batch 24 sat for ATPL CA6; the toughest and heaviest paper among other exam on 27-28.01.2010 and we all managed to pass one go.



After PPL (flying) test, I resumed with CPL flying phase. The beauty during this CPL stage was, we can bring our friend or anyone with a PPL holder (preferably type rated with the same aircraft) as our safety pilot. During IF, it is a must.


However, I love to bring co-pilot during my long hours navigation. Its just like I have an autopilot on board.Haha.. At least I have someone who can give his suggestion and opinion during real time flying.


Hehe..Highest altitude for Single Engine I ever climb. Nav to Gua Musang..Not really navigation due to some patches of big cloud.We rely using our G1000 GPS =p.
We when started our ground classes for
CA-2 papers
somewhere around February 2010. Exam date for CA-2 was on 16.03.2010 . After completed the papers, we are now fully free from ground school papers. Lucky for Batch 24, all of us passed at one attempt.
I then resumed my CPL flying and flew my first
Night Flying
on 20.04.2011 with Capt Myo (APAC17).
My callsign : APAC 2458 Night Flying 1 with APAC17
I managed to complete all my Night Flying for single engine by 29.04.2011. Continued the CPL progress and sat for the first test in CPL stage ;
Flight Navigation Test (FNT). My FNT
was done with Capt Kamis (APAC09Tango) on 01.06.2011 . After passing FNT, I then qualified for the next test ;
CPL Instrument Flying (IF) test which I took on 08.06.2011 with Capt Mokhy (APAC03Tango).
Last but not least, I completed my single engine training on 28.06.2011 with Capt Zeenu and passed CPL General Handling (GH) test.
Simulator training
normally will be done at the end of single engine training. Somehow, some students prefer to finish single engine training first and followed by Sim training. I started my first Simulator training on 25.05.2011 with Capt. Salleh . There are two types of Sim at APFT. Piper PA34 and Diamond DA42. My partner and I choose to start with PA34 and end up flying airways in DA42 because we are going to fly DA42 in the future. I finished my Sim training on 09.07.2011 and sat for FNPT with Capt Syaiful. One of the most respected and happy go lucky instructor in Simulator.
I started my first Twin (DA42) aircraft on 05.07.2011 with Capt Zeenu (APAC06Mike) for
GH 1
and sat for the Type Rating test on 11.08.2011 with Capt Mokhy. One thing I love flying airways is we have the freedom to choose our destination.
Snacks on board. Because we are cruise at high altitude plus unpressurized aircraft, this chipsmore packet expand and become a time bomb =p
hihi
Personally, I've been to Subang and Penang International Airport for my airways flying. But, you must remember, normally IRT test route will be to Terengganu. You must make sure you are familiar with the Departure and Arrival procedure before enjoy to other destination.
I'm in the end of my flight training now; I did my Night Flying Endorsement on 16.08.2011 and Instruments Rating Test (IRT) with Capt Mokhy (APAC03Tango) on the next day afternoon. I safely landed the aircraft 15minutes before "break fast" time. It was on Ramadhan month.
Here you go ; my flying chronology from the first day I started until the last training.
I had few emergencies during my single engine training which I wanted to share here. I believe few of my batchmates had too but we managed to recover from the situation.
My nature of emergency are:
Power Loss
,
Voltage Low
and
Instruments Fails
. I'm sharing my experience during this kind of situations because I'm lucky to be able to share and hope if this encountered to you, you will remain calm and think out the best solution.