Congratulations!

You have been accepted to enroll yourself in a Flying Academy. Regardless of which academy, rules are rules. They are almost the same. Flying syllabus won't have a great different from the other.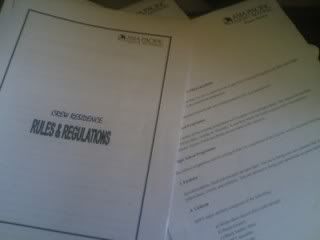 Rules and Regulations in Crew Residence and final agreements.
I still remember back then, in 2009. I was quite worried initially. It was my first time entering '
boarding school
'. Everything from A to Z you have to do on your own. Too much too mention here. =p I don't know How I managed to survive..
Hehe
. Can you imagine, the first week, my batch had some
internal glitch
and been called up by a flying instructor. However, as days passes by, slowly, I adapt to the new situation. Made new friends, meet people, and live like a robot.
HAHA..
To my friend ;
Cadet Mohd NorFitri Aliff;
as promised, this post is specially made for you my friend. Here I've got few things I've learned from academy and I think you must know.
1)
Never be late for class for any reason
. At early stage, you might wanted to give a good impressions to instructors for few month. Yes, I do understand sometimes or someday, you will miss the first bus and end up late for the first period of class.
DON'T
. Not at the early stage my friend. How to overcome? Team work. If you find yourself difficult to get up early in the morning, let others know so that they can wake you up. No excuse please.
2)
Respects
. You must respect seniors and instructors. Remember, maybe some of your seniors are younger than you, but still, they have seniority than you. You might need their help one day.
One day
. Talking bout seniority, I still remember, at the early stage at APFT, we; batch 24 have to stand-up in bus regardless how early we are. We gave seats to those seniors. And we don't mind. Because our day will come too.
3)
Punctuality
. Time is very important. Getting yourself early for something is better than rushing at last minutes. Remember, during flying phase,
do not EVER
come late for sortie, standby at least 2-3hours will do.
Why
? Let me tell you a reason, I've been experiencing this several times, let say 2 sorties before me is for IF Letdowns, however, if letdowns is not available, they will ask some other students take the aircraft and do some exercise first before land and give back to the previous one. If you arrive 30mins prior departure, instructors wont be that happy my friend.
4)
Teamwork.
That's the way we are. I don't fully appreciate this until I was given an assignment which I need to prepare with my partner. And the great part was, my partner (
housemate too
) being kicked out for having discipline problem. Leaving me alone doing all the mess. Still, I managed to cover up.
5)
Greet
. Greet your instructors like "
Good Morning, Sir
" or anything appropriate rather than walking and watch him pass by like a stone.
DON'T!
Not to forget, your fellow batchmate or seniors. Always address instructors as "
Sir
".I've been taught that way.
6)
Follow Rules.
Early stage of PPL, try not to brake any rules. Just follow them. I'm not trying to say that once you have become a senior, you can break them. No, but, once you are senior, rules will be a bit "
loose
" since you are close with end of your course.
7)
Study, Study and Study.
Its not easy to pass JAA syllabus actually except to study Smart. Manage your time and if you are able to study with few of your friends, it would be good enough.
8)
Mental Flying
. You will listen to this words thousand times. Trust me you will. I realised the importance of mental flying especially during Instruments Approaches. Be familiar with your checklist. If possible, whenever you are free, just ask seniors to show you how to make a pre-flight check, go through checklist prior your first flight.
DONT EVER EXPECT
instructors will spoon feed you my friend. I've seen people '
tiau
' on their first flight. Not a good kick start kan?
9)
Follow SOP & guidance from Instructors.
Instructors have thousands of flying hours. Some of them was from air-force. Their flying skills are not questionable. As a student, try to comply his instructions and feel free to ask if you have any questions.
DO NOT ARGUE
and show them that you are damn smarter or TOP GUN thingy to instructors. It's like you are the captain, and 10years old boy come to you and show you how to fly. Isn't that sound a bit awkward? Argue and asking questions are two different things. I hope you can differentiate between this two.
10)
SAFETY ALWAYS COME FIRST.
If you ever feel not fit to fly, especially during SOLO flying. DO NOT EVER FLY. It is your responsibility. Anything happen, you are alone up there. Remember, emergency rarely arise, but if they do arise, I want you to remain calm and think out the best solution. Remember to recite "
Doa naik kenderaan
" each time you flight before you crank the engine.
Personally, you already have basics of flying since you are familiar with Paragliding. Nothing much to correct you. Just remember, prepare for each and every flight. Flying without preparation is like suicide..
Hehe
.
So, I would like to wish you all the best for your future flying career at KISTAA. Be a good boy and do your best. Any problems, just let me know if I can help you at any way I can.